| | |
| --- | --- |
| Quest Type: | Main Quests |
| Level required: | No level requirement. |
| Premium: | Yes |
| Map Area: | Edron |
Monsters you can find…

Bat

Wolf

Bear

Wild Warrior

Wisp

Poacher

Stalker

Dark Apprentice

Hunter

Minotaur Mage

Bonelord

Dragon Hatchling

Dark Magician

Monk

Demon Skeleton

Priestess

Dragon
reward…

Silver Rune Emblem (Ultimate Healing)
Introduction
Almost from the very times when the great city of Edron was born, humans guided by greed and convinced by evil entities escaped and took refuge in ancient ruins located in the north of the island. Their activity in that place is unknown, but nothing good is expected of them, nor of their powerful allies. Evil Monks and Priestesses, whose enormous power increased in protecting the ruins, created great magical artifacts, including runes with abilities higher than normal.
The Adorned UH Rune Quest will take us to the distant and dangerous ruins north of Edron, the famous Hero Caves. The reward consists of a Silver Rune Emblem from Ultimate Healing Rune, an excellent decoration item. In the past, instead of the Silver Rune Emblem, a 3-load Ultimate Healing Rune was obtained, which was unusual to obtain in-game, as rune loads could not be collected.
SPOILERS ACONTINUACION
Atención: apartir de aqui el siguiente texto puede estropear la diversión del juego
Part 1: The Emblem Route.
Head for the mountain that divides the island of Edron, located north of the city, cross the mountain by the available path and go down the stairs to meet you at the marked point. from there, walk north and you'll enter a thick forest, where you'll find Wolves, Bears, Poachers and Wisps. Keep walking north, something heading northwest, and you'll encounter a camp of 2 Wild Warriors and 3 Hunters (B), kill them and walk up a little to find a hole, go down it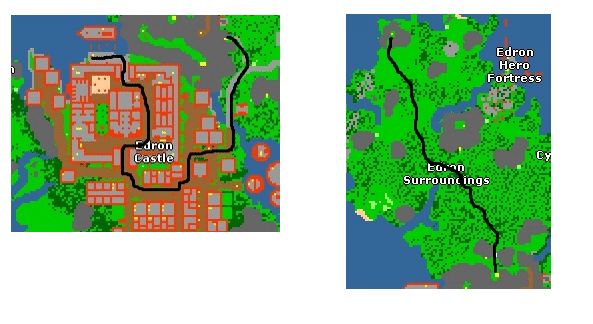 When you go down you'll face 3 Wild Warriors, go down the hole that continues and you'll probably face 2 Demon Skeletons (C). Throw them down and walk to the left where you'll find a couple of Bats. Upwards, you'll find Wild Warriors, Hunters, Dark Magicians, Demon Skeletons, and a Priestess, with whom you need to be more careful because it's more powerful. Keep walking until you find yourself in a room with a Beholder and 2 Demon Skeletons. Try killing them one at a time so you don't find this part so difficult.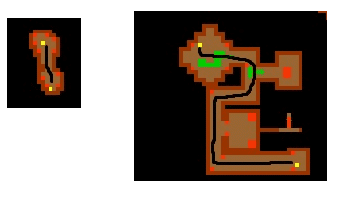 Go down the hole and you'll find a Monk and a Dark Magician. Kill them and walk to the right, where you'll face more Wild Warriors, Demon Skeletons and Dark Magicians. At the fork, walk up and down the hole.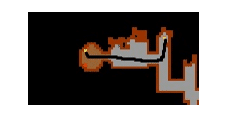 In this part you will face 3 Dragons and 2 Dragon Hatchlings. With some patience you can make it possible for them to appear one at a time. If you're in a lot of trouble in this section, use Ice item spells or runes, such as Avalanche Runes, to make the situation easier. Once ready, walk towards the hole in the center of this section of the cave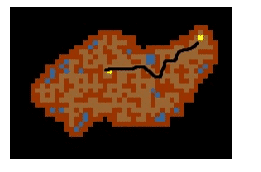 When you get down, you'll face 2 Monks and a Dark Apprentice. Keep walking and you'll find a Hero and probably another Monk or a Dark Magician. Be careful, keep in mind that the Hero is powerful, so consider killing him first to make the rest easier. Walk up to find another hole next to two Dark Apprentices. Get ready for the lower floor because there are many creatures and it can be more difficult than the previous ones.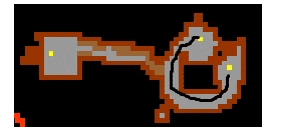 On the way down, you'll encounter 2 Wild Warriors, 2 Stalker, a Dark Apprentice, a Minotaur Mage, 2 Hunter, a Dark Magician, a Demon Skeleton, and a Priestess. The most useful thing is to defeat the Priestess and demon skeletons first because they are the ones that can affect you the most. Effective use of area runes such as Thunderstorm Runes and Avalanche Runes can be very useful for quickly passing this room.
However, the danger does not end there. More creatures such as Dark Apprentices, Dark Magicians, Demon Skeletons, Monks and Priestesses will continue to appear in the lower rooms.
From the stairs, walk down a little and at the fork take the road on the left and you'll encounter a Dark Apprentice and a Priestess. Kill them both and go down the stairs.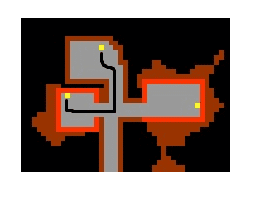 On the lower floor you will find 2 Monks in a monument room. Kill them and get ready for the bottom floor. When you get down, you'll meet 5 Monks. If you're of some magical vocation or Paladin, using area attack runes like Stone Shower, Great Fireball, Thunderstorm or Avalanche could be useful enough to kill all Monks quickly. If you're Knight, just kill them one by one or use the Berserk spell, or Fierce Berserk if you think you need it. When you're done killing the Monks, take your 3-charge Ultimate Healing Rune from the box on the left.
Now, you can leave the place following the same route that we have pointed out to you. It's likely that depending on how long it takes you to do the Quest, all the creatures along the way have reappeared, so be pretty careful.