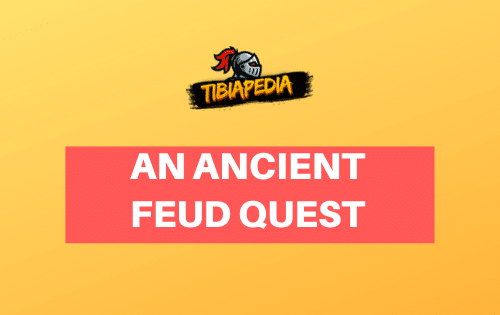 An Ancient Feud
Quest
Deberemos ayudar a Daniel Steelsoul a investigar sobre las anomalías que están sucediendo en el desierto de Darama y descubrir los sucesos en las profundidades del desierto como parte de An Ancient Feud Quest.






Monstruos que enfrentaras





Requerimientos
-Tener completa la quest: The Curse Spread (Foxtail Amulet Quest).
-Acceso a Lions Rock (Solo poder pasar por la llama/tp azul).






INTRODUCCIÓN A AN ANCIENT FEUD QUEST:
Adentrate en esta nueva aventura sobre lo ocurrido tras el paso de la maldición que a caído sobre Grimvale previamente y ahora esta
desolando el desierto de Darama y descubre el motivo de la enemistad que oculta el misterio de las Werehyaenas y Werelions
Daniel te envia a hablar con Domizian y así poder ayudarle a investigar sobre la enfermedad que esta esparciéndose por Darama.
Lo primero que hay que hacer para iniciar el avance de la quest es dirigirnos hacia la ciudad de Edron justamente en el castillo donde encontraremos a Daniel Steelsoul quien nos notificara sobre las anomalías que están sucediendo en el desierto de Darama y nos enviara con su
colaborador Domizian y con su ayuda logres desvelar los sucesos en las profundidades del desierto.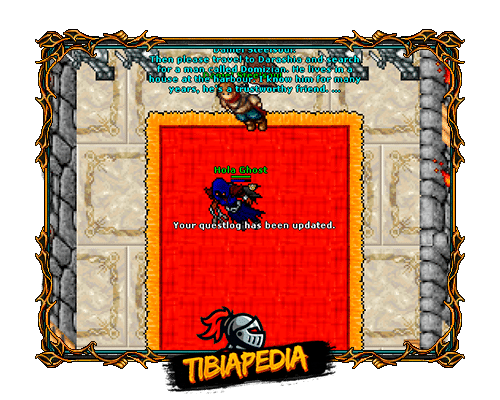 Daniel Steelsoul: Greetings and Banor be with you, Player
Daniel Steelsoul: Thank you again for your assistance, Player! The Curse of the Full Moon still exists on Edron. But thanks to your heroic deeds we can keep it within certain bounds. At least I hope so! …
Daniel Steelsoul: Yesterday a travelling salesman told me that he spotted a feral creature in the Darama desert that looked like half man and half lion. Banor grant that this is just unfounded gossip and that the curse didn't spread further. …
Daniel Steelsoul: Well, I guess, we will find out soon. Edron, for the time being, is a safer place now, thanks to you.
Daniel Steelsoul: Lately I heard rumours about the curse. That it has spread to the Darama Desert and that the lions there could also be were-creatures. Do you want to get to the bottom of it?
Daniel Steelsoul: Then please travel to Darashia and search for a man called Domizian. He lives in a house at the harbour. I know him for many years, he's a trustworthy friend. …
Daniel Steelsoul: I'm sure, he can tell you more about the curse in the Darama Desert.
Ahora ve con Domizian quien se encuentra justo en el edificio en la segunda planta la izquierda en cuanto bajas del barco de Darashia.
Player: hi
Domizian: Greetings, traveller!
Player: lion
Domizian: So, Daniel Steelsoul sent you? He is a most respectable man and I'm honoured to know him. It is of advantage that you have already dealt with the were-sickness so you won't hurl yourself into this adventure unprepared. …
Domizian: Listen, the curse has indeed spread to the Darama Desert – but not recently. It exists here since a long time but only few know about it. Here, it's not werewolves or werebears. The danger that plagues this region are the werehyaenas. …
Domizian: Until now they were savage and smelly beasts who hunted down a travelling merchant now and then. But mostly they stayed in their subterranean lairs and lived off carrion. …
Domizian: But a few weeks ago something changed. Suddenly they had shamans, something I never saw before. Those shamans are using bone talismans and paint their fur with runes. Runes I saw just once before … on an artefact from Drefia. …
Domizian: I'm afraid the werehyaenas have a kind of pact with the undead of Drefia but I don't have proof. Please go to their lairs and investigate. You will find the entrance north of the town, at a large menhir.
Ahora debemos ir hacia la cueva de Werehyaenas al norte del Banco de Darashia junto el respawn de Wasps.
Una vez llegando al respawn es recomendable matar toda criatura Werehyaenas que veas en el camino por que nos pedirán que matemos 300 después y el contador de muertes sube incluso aunque no este en ese punto de la quest, ahora lo que debemos hacer es marcar 3 lugares en especifico dentro de la cave.
Después de haber encontrado todos los lugares y obtener los mensajes de aviso de que ya los encontraste debemos ir con el npc "A Skull" el cual solo te hablara de noche y le diremos lo siguiente: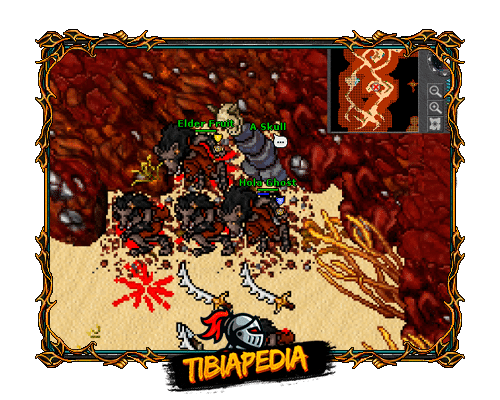 Jugador: hi
A Skull: Greetings, traveller!
Jugador: undead
A Skull: Listen: The undead of Drefia are working together with the werehyaenas. I overheard a secret conversation between a werehyaena shaman and a lich right here!
-El te dirá que los Undead de Drefia están trabajando junto con los Werehyenas, ahora ve a hablar con Domizian, te pedirá que encuentres una manera de detener los planes de los Werehyenas.
-El dialogo con Domizian es: Hi, Curse.
-Luego nos iremos con "Rarghu" quien es el lider de las Werehyenas esta al fondo de la cueva y le diremos: Hi, Curse.
-Nos pedirá 5 objetos para detener la maldición y te dará un barril(al inicio de la guía te indicamos cuales)
-Tendremos que capturar 5 Cave rats las cuales puedes encontrarlas en Yalahar o un Sorcerer o Druid puede invocarlas y así usar la Net en las rat para capturarlas después usan la Salt en las ratas y las ratas con sal en el Barril que Rarghu nos entrego.
Ahora iremos a uno de los lugares que marcamos al inicio de la quest, exactamente en la piedra que esta dentro de un esqueleto gigante usen la antorcha en la piedra nos dirá que no podemos quemara por que la antorcha no tiene suficiente poder para esto. Así que nos tocara regresar con Domizian y tener este dialogo.
Jugador: hi
Domizian: Greetings, traveller!
Jugador: destroy
Domizian: I guess you need something holy or at least blessed to destroy this evil site. The werelions know a ritual that allows you to bless fire in general. It should work with this torch, too. …
Domizian: But you can do that only at a special altar in our sanctum. Go to the Lion's Rock in the north-west of Darashia. Descend to the area where the most noble lions are guarding a secret entrance. …
Domizian: There is a door, you can only open if you know the right phrase. It is: 'The sun guides our hearts. The moon guards our dreams'. Down there you will find a room with a mosaic, showing a sun and a moon. …
Domizian: There is an altar where you can bless the torch. You have to find a lion mane flower and chop the petals up small. Then sprinkle the chopped petals into the flame while standing at the altar. …
Domizian: Thus, the fire will be blessed and should be able to burn down the evil bone shrine.
Ahora podemos irnos a purificar el fuego en el respawn de los Werelions, sigue todo el camino completo hasta llegar a un altar con un libro abierto.