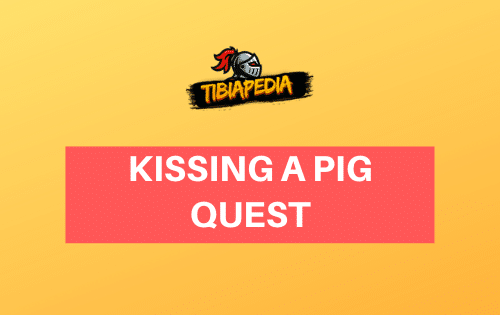 Kissing a Pig
Quest
An evil witch has cursed Princess Shantalla and turned her into a pig until the world's best kisser kisses her. Do you know what this means? That's right, we need to become the best Tibian kisser and for that we must learn from the best, are you ready to become the best kisser?











NOTES FROM KISSING TO PIG QUEST:
You don't need to talk to the pig between each mission, only at the beginning and in the end you need to talk to him. However, the pig's answers are different because you get better and better, so it's interesting to talk to him.
You can do the missions in any order, even if you've already done some things and started the quest afterwards.
Talking to NPCs does not update quest log in this quest.
INTRODUCTION KISSING A PIG QUEST
An evil witch has turned Princess Shantalla into a pig, the only way to get her back to normal is for her to be kissed by the best tibian kisser, so we'll become the best way to do it is to learn from the best kissers, some alive, some dead, even some of your same sex you should kiss Ready? Begin.
To start we will go to Thais to the point indicated on the map, you will find several pigs and one of them is an NPC.
Player: hi
Pig: Oink.
Player: kiss

Pig:
Do you want to try to release me with a kiss?

Player:
yes

Pig:
Uhhh. Well, that was … promising. But you are FAR from being the best kisser in the land.
Player: bye
Pig: bye
We will leave at the north exit of Thais to head to the npC Hoggle house located on the outskirts of Thais
Player: hi

Hoggle:
Welcome to my humble home!

Player:
garden
Hoggle: My garden is full of wild-growing plants and my back is aching like hell. Perhaps you are interested in cutting these pest plants …

Hoggle:
I'll give you 5 shiny pieces of gold for this job. Is this a deal?

Player:
yes

Hoggle:
That's great. You will have to rattle at the garden gate a bit to get it open, it's quite old, you know. Tell me about the garden when you are finished.
Player: bye
Hoggle: Good bye.
He'll ask you to help him cut a branch in his back garden, pay you 5 gold coins, you can use a machete or a multipurpose tool, when you get an orange message that
says, "You Advanced in Lawn Mowing,"
it means you've done well.
We'll go back to Hoogle and let him know we've cut his weed.
Player: hi

Hoggle:
Welcome to my humble home.
Player: garden

Hoggle:
I hope you were diligent and accurate. Here is your gold. Don't spend it on alcohol or tobacco!
Player: bye

Hoggle:
Good bye
This step we took is to get into Fermon Hills Tower, to talk to Caramellia, follow the following path to get there:
Carmellia is a girl who was deeply in love with her boyfriend Winfred,a witch locked her in this tower and put a spell so that no one could enter, we will ask her about her boyfriend Winfred to give us some emotional words that will make us better kisser.
Player: hi

Caramellia:
Hello, 'Player'. Please leave me alone in my mourning.

Player:
winfred

Caramellia:
He was my one and only true love. He was a mere commoner and so my father forbid me to see him …

Caramellia:
We met anyway, we had plans to flee to Port Hope and to start a new life there …

Caramellia:
A druid, in service of my father, had spied on us. So they brought me here and locked me into this tower. The druid cast a spell on the plants at the entrance which kept everyone from entering the tower …

Caramellia:
I could see Winfred from the window but he could not come to me. One day I've disappeared. I knew immediately that something horrible had happened to him.

Player:
True love never dies
Caramellia: Those were his words, weren't they?

Player:
yes

Caramellia:
Yes, it's true, he is so right. As long as I remember the love and happiness we shared, neither love nor my beloved will be truly dead …

Caramellia:
They will always have a special place in my heart. Thank you stranger, for reminding me about it. Know that life is like a kiss of lovers …

Caramellia:
It's about sharing emotions and feelings, it's about knowing that you are not alone but belong to something greater, something more beautiful …

Caramellia
: Keep this in mind and your life will improve and so will your kisses.
Player: bye
Caramellia: Good bye.
We have learned everything we had to learn from Carmellia and her kisses, now let's go for more tips to kiss well with Elvist in Abdendriel.
Let's travel to Ab'dendriel at Elvith's store
We'll ask Elvith about kisses, the dialogues are as follows:
Player:hi

Elvith:
Ashari Player.
Player:
kiss
Elvith: I will not share the secrets of kissing with someone not worthy. Impress me! Write a good love poem and then show it to me …
Elvith: You can buy poetry parchment at the Thaian embassy. Use an inkwell on it to write a poem.
Player: bye

Elvith:
Asha Thrazi.
He tells us not to share information with anyone, that if we want to know everything we write him a great love poem, to start with his
requests we will go to look for a Scroll for poems in the post office of Ab'dendriel
:
Talk to Olrik and buy him a Poetry Parchment,you should use

an Inkwell several times (4) in the same Parchment until you get a perfect poem, which its description is:
You see a parchment.
It weighs 2.00 oz.
It says 'Roses are red, violets are blue, sugar is sweet and so are you.' Excellent!.
Go back to Elvith and tell him:
Hi, Poem, yes
will be impressed and tell you his best secrets to be a good kisser, and after we know it we will learn from someone else.
Venore's Snow Cones are famous all over the world of Tibia, and there's one person who loves them, we're going to bring him one, we should go with Boozer and buy him a: Venorean Ice Cream,a flat above the venore depot.
We'll have to buy a Venorean Ice Cream and quickly head to Thais to deliver it to Lynda before ice cream melts and gets lost, we've only got 2 minutes.
We will give your Venorean Ice Cream to Lynda and as she loves it she will tell you things about life and love, we learn what it takes to increase our skill with kissing, the dialogue is as follows:
Player: hi

Lynda:
Welcome in the name of the gods, pilgrim Player!
Player:
venorean ice cream

Lynda:
Are you saying you have … some Venorean ice cream for me???
Player: yes

Lynda:
Oh, that is marvellous. Thank you very much. You know, I just LOVE ice cream! Of course it can't be compared to the love to the gods …
Lynda: To truly love is pure happiness of heart and soul. <She tells you so much about pure love and devotion. You learn a lot for life.>
Player: bye
Lynda:
Good bye, Player. May the gods guard you, my child!
Another person we can learn a lot from is with Zebron a gambler who is in venore's bar 3 floors down the depot.
We will talk to him and ask him about kisses, he will tell us that this information can not share it so easily, to access it we must play with him dice and beat him 3 times in a row, therefore the dialogue can change a little depending on your luck, but it is something like this:
Player: hi

Zebron:
Greetings, high roller. So you care for a game, 'Player'?

Player:
kiss
Zebron: Ah, love is the most exciting game of all. I've learnt a few tricks of this game, too and I might share them with someone worthy.

Player:
worthy

Zebron:
If you want to learn my kissing secrets, you will have to beat me in a game of says first! Your bet is 25 gold a game, beat me 3 times in a row and I will tell you all my little secrets. Are you interested?
Player: yes
Zebron: I win with 6 over 2. Your loss, my win. Are you ready for another game?
Player: yes

Zebron:
You win with 5 over 1. You'll keep your 25 gold this time. Are you ready for another game?
Player: yes
Zebron: We both rolled to 6. You keep your money and the chance to win 3 times in a row. Are you ready for another game?

Player:
yes
Zebron: We both rolled to 5. You keep your money and the chance to win 3 times in a row. Are you ready for another game?

Player:
yes
Zebron: You win with 5 over 3. You'll keep your 25 gold this time. Are you ready for another game?

Player:
yes

Zebron:
You win with 6 over 4. I'm mildly impressed. You've beaten me 3 times in a row, so what? Oh well, now listen to my secrets: <Whisper> <Whisper> <Whisper>. Interesting, isn't it?
Player: bye

Zebron:
Hey, you can't leave, 'Player'. Luck is smiling on you. I can feel it!
In the end Zebron will tell us all his secrets from a good kisser.
Now we must visit Dwarven Ghost, a legend of the lands of Kazordoon found in Grothmol Tunnel and his secrets about love, life and kisses are necessary for us.
First we need to talk to Budrik and give him 5 Picks so we can get into Grothmol Tunnel, follow the map and talk to him.
Player: hi

Budrik:
Hiho, hiho 'Player'. Why do you disturb me?
Player: pick

Budrik:
You brought the picks?

Player:
yes

Budrik:
Not the best craftsmanship, but they'll do. As promised, I grant you permission to enter the Grothmok tunnels. Good luck.
Player: bye

Budrik:
Bye bye.
After talking to Budrik you'll already have access to Grothmok Tunnel where you'll find Dwarven Ghost, follow the maps below so you don't get lost.
In the end we will find Dwarven Ghost, and ask him about his kissing secrets, the problem is that he will not give us the secret for free, he tells us that he is worried that his legend is dying and we need to do him a favor to receive his seductive secrets: Go home and burn a false beard that he had saved, the dialogue is as follows :
Player: hi

To Dwarven Ghost:
Do not disturb the dead for nothing, deadly.

Player:
kiss

To Dwarven Ghost:
My secrets about kissing have died with me. I alone know them, so they are well kept … But … thinking about it …
To Dwarven Ghost: Not all of my secrets are really well kept. There is one thing you could do for me, mortal. One favor by you to gain a favor of me.

Player:
please

To Dwarven Ghost:
I don't want the legend about myself to be ruined. Therefore, I need you to do something for me. Go to my quarters in Kazordoon …

To Dwarven Ghost:
In my drawer you will find … a false beard … don't ask any questions deadly! Light the coal basin in my chambers and burn the damned beard in it…
To Dwarven Ghost: If you are done, forget that you have ever entered my quarters. Come here and I will tell you what you want to know!
Player: bye
To Dwarven Ghost: Death will find you, too.
Let's burn that beard, go back to the city of Kazordoon and from the depot we'll go up the stairs on the left until we get to the destination, just follow the maps.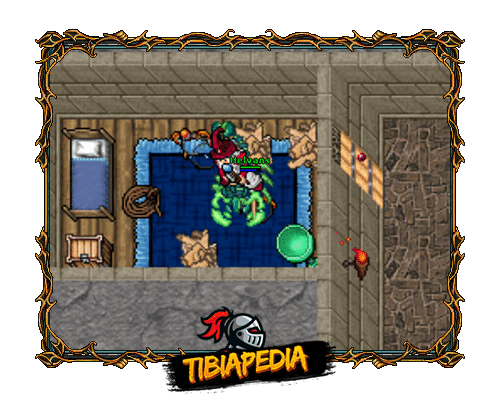 Open the chest to get the fake beard (Fake Dwarven Beard), use the Fire Bug in the Coal basin for the Basin to


light up, and once you see the Coal Basin like this:

, you'll have to burn the beard on it.
Now go back to NPC Dwarven Ghost and say: Hi – Beard. Once this is done the NPC will be happy and happy with you and transfer some of its knowledge to your mind.
Now we will visit Toothless Tim an adventurer who in his youth mastered the art of kissing and enjoyed that pleasure with many beautiful ladies, we will go to learn from him, for this we must go to a place that is lowering the sewer that is outside the depot of Carlin.
You'll find 3 NPCs, including toothless Tim, but you won't be able to talk to him if you're not drunk, if you bring your 3 Mug of Beer you must take them now, if you don't bring them you can buy them with the NPC Karl that's right there.
Player: hi
Toothless Tim: Greetings my friend. What a splendid day we have, don't you agree.
Player: kiss

Toothless Tim:
Ah, the joyous art of kissing is a sophisticated thing indeed. In my youth I enjoyed the delights of kissing with a few fine ladies. Would you like to learn more about kissing?

Player:
yes
Toothless Tim: I could tell you much about kissing but I rather show you how to kiss properly. Are you prepared?

Player:
yes
Toothless Tim: Mhmmmm. It's been a while since I kissed a lady.
Player: bye
Toothless Tim: Bdlll.