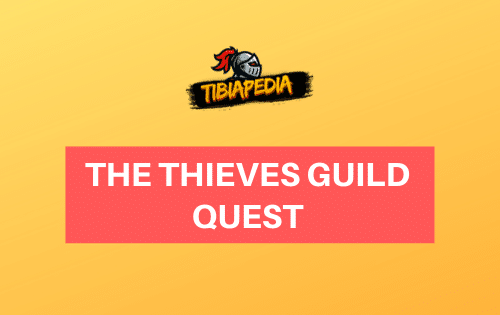 The Thieves Guild
Quest
Guia completa para terminar The Thieves Guild Quest
No hay requerimiento de nivel
Monstruos
que enfrentaras




































Habilidad de comercializar con Black Bert.
Introducción
Tibia es un mundo muy amplio y es bastante normal que, por la misma razón, encontremos una gran diversidad de personas dispuestas a lograr sus metas a cualquier precio. Obviamente, siempre habrá personajes que intentarán cumplir sus objetivos de la manera más sucia y eventualmente, se encontrarán con otras personas con fines similares y que planean lograrlos por los mismos medios. Entonces se forman organizaciones. Una de ellas es la Thieves Guild, poco conocida por su nombre pero sí muy buscada por sus actos. Los miembros de esta organización se encargan de obtener lo que buscan a cualquier precio, engañando, robando, escabulléndose, mintiendo e incluso matando si es necesario.
El The Thieves Guild Quest nos llevará precisamente a unirnos a la Thieves Guild, comandada por Dorian, un ladrón profesional que se esconde en algún sitio de la ciudad de Thais. Esta Quest es muy útil para aquellos que pierden sus Items de Quest, además de que da tres recompensas (sólo puedes elegir una) muy útiles.
Dirígete a Thais
al lugar marcado en el mapa, baja las escaleras que están a la derecha del barco. Sigue el camino y encontrarás a Dorian.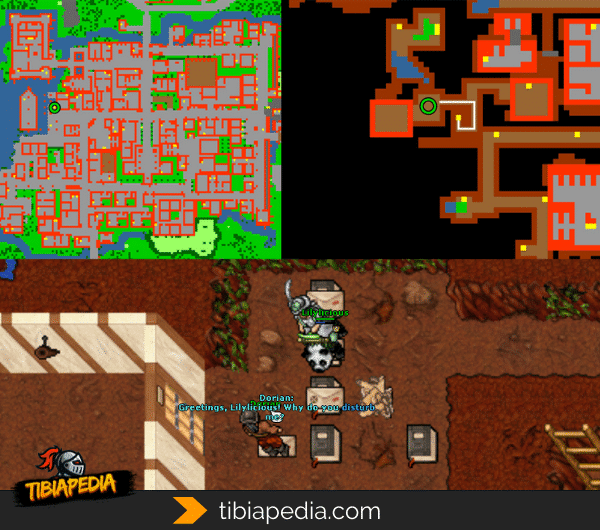 Una vez ahí deberás unirte a su Hermandad de ladrones:
PLAYER: hi

Dorian: Greetings, PLAYER! Why do you disturb me?

PLAYER: thieves / join

Dorian: Hm. Well, we could use some fresh blood. Ahum. Do you want to join the thieves guild, PLAYER?

PLAYER: yes

Dorian: Excellent. You'll learn this trade from scratch. Our operations cover many fields of work. Some aren't even illegal. …

Dorian: Well, as long as you don't get caught at least. Ask me for a mission whenever you're ready.
Después dile "mission" para que te entregue tu primera misión:
PLAYER: mission

Dorian: Your first job is quite easy. The Thaian officials are unwilling to share the wealth they've accumulated in their new town Port Hope. …

Dorian: They insist that most resources belong to the crown. This is quite sad, especially ivory is in high demand. Collect 10 elephant tusks and bring them to me.
MISIÓN 1

Dorian te contará que los oficiales de Tiquanda no están dispuestos a compartir las riquezas que han acumulado, así que, como primera misión te pide que recolectes 10 elephant tusks. Estos los puedes recolectarlos de Elephants aunque es raro que los looteen, de la Elephant Tusk Quest (2) o puedes comprarlos a otros jugadores. Una vez hayas recolectado los Tusks, vuelve con Dorian para entregárselos:
PLAYER: hi

Dorian: Greetings, PLAYER! Why do you disturb me?

PLAYER: mission

Dorian: Have you finished your mission?

PLAYER: yes

Dorian: What a fine material. That will be worth a coin or two. So far, so good. Ask me for another mission if you're ready for it.
MISIÓN 2
Un cliente de la hermandad esta interesado en "cierto" jarrón, desafortunadamente no está a la venta por el dueño original. Pero con mucho gusto ustedes pueden vendérselo. Así que, para tu siguiente misión, tendrás que conseguir ese jarrón.
PLAYER: mission

Dorian: A client of our guild would like to get a certain vase. Unfortunately, it's not for sale. Well, by the original owner, that is. …

Dorian: We, on the other hand, would gladly sell him the vase. Therefore, it would come in handy if we get this vase in our hands. …

Dorian: Luckily, the walls of the owner's house are covered with vines, that will make a burglary quite easy. …

Dorian: You'll still need some lock picks to get the chest open in which the vase is stored. Must be your lucky day, as I'm selling lock picks for a fair price. …

Dorian: You might need some of them to get that chest open. The soon to be ex-owner of that vase is Sarina, the proprietor of Carlin's general store.
Toma tus Lock Picks y dirígete a Carlin, sigue el mapa hasta el lugar marcado, usa las enredaderas para trepar, una vez dentro de la tienda usa los Lock Picks en el cofre hasta que se abra.

Cuando tengas el jarrón en tus manos, vuelve con Dorian, tan solo usa la ventana por la que subiste:
PLAYER: hi

Dorian: Greetings, PLAYER! Why do you disturb me?

PLAYER: mission

Dorian: Have you finished your mission?

PLAYER: yes

Dorian: What an ugly vase. But who am I to question the taste of our customers? Anyway, I might have another mission in store for you.
MISIÓN 3
Dorian te contará que el Rey Tiabianus hará una gran fiesta a fin de mes, desafortunadamente olvidó invitarlos, claro que sería una grosería hacerle notar su error, así que tu misión será conseguir la invitación, habla con Dorian.
PLAYER: mission

Dorian: Our beloved king will hold a great festivity at the end of the month. Unfortunately he forgot to invite one of our guild's representatives. …

Dorian: Of course it would be rude to point out this mistake to the king. It will be your job to get us an invitation to the ball. …

Dorian: Moreover, it will be a great chance to check the castle for, well, opportunities. I'm sure you understand. However, it's up to that pest Oswald to give out invitations, so he's the man you're looking for.